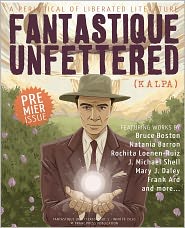 At this point I am only seeing it on Barnes & Noble but we should see it up on other major bookseller sites soon. Using the ISBN number, you can order the book through your favorite bookstore: ask them to order a few extra for their shelves.
Here is the ISBN:
Fantastique Unfettered #1 (Kalpa)
ISBN-13: 9780983170914
ISBN: 0983170916
And better yet, Barnes & Noble has a nice discount on issue one (retailing at 9.95, it is discounted --as I write this-- to $7.01.) I have no way of knowing how long that will persist, but it is a nice deal for some new years reading. Check it out
HERE.
If you are a reviewer I have not contacted, please let us know ( editors at fantastique-unfettered.com ) and we will forward a review copy.
---
What about ebook versions?
Issue One is primarily a print publication. Moving forward, we're adapting the workflow so as to produce both the print and ebook versions. So it is very much on our radar. In the meantime, we may distribute a pdf version of issue one if there is demand.
---
For the writers...
We open to submissions again on January 1st. I anticipate a much shorter reading period this time around since we are truly on the quarterly schedule now. If we can close to subs at the end of February, that is ideal, but we may remain open through part of March. I dislike reading periods, but it's the best way for the slush readers to maintain their sanity. We'd love to see some Aether Age stories come our way, to accompany the AeA-themed cover.
Bye, for now, and please let us know what you think of Issue One (send feedback to the editors at fantastique-unfettered.com, with 'letter to the editor' in the subject line and we might answer you in the next issue!)
BB